When you decide to invest in a photocopier for your business it is important to weigh up the advantages and disadvantages of leasing vs buying. There are some big differences between the two. Copier rental service in Ha Noi Viet Nam please point out the main points.
Difference Between Photocopier Rental and Leasing
When you lease a photocopier it is generally a long term agreement (usually several years) that involves you paying set amounts each month for the use of the office photocopier.
When you rent a photocopier it is usually a short term agreement where you pay a fee for the use of a machine for a set amount of time. If you are unsure about whether you should rent or lease a photocopier think carefully about the period of time you need the photocopier for.
Advantages Of Leasing A Photocopier
When you lease a photocopier you spread out the cost over a specified contract term. The biggest advantage of leasing is that you do not have to pay a large upfront fee for the copier, it is smaller payments spread out over time making it more manageable.
When leasing a photocopier your contract with generally include maintenance costs and toner refills, this helps to keep the cost of leasing cheaper than buying as when you own the machine you are responsible for all extra costs. It is also easy to choose a new lease or copier upgrade at the end of the contract without having to worry about selling or getting rid of the old copier.
Renting or hiring a printer or photocopier can be a great way to avoid the capital outlay of a machine for many businesses, particularly if the use is for a reasonably short period of time. There are many ways renting a photocopier can prove to be a cost effective solution. We'll explain more about what renting a photocopier consists of, the pros and cons of it, and the difference between leasing, to help you make an informed decision.
What Does Photocopier Rental Mean?
Photocopier rental is a flexible way to quickly access a suitable machine to perform all of your document management needs, paying a fee for your use, instead of buying the machine out right.
Hiring or renting a photocopier is another option to purchasing the machine. As with anything you rent, you will typically have it for a short period of time, using it for your specific needs, before giving it back. Renting a printer or photocopier works in the same way.
Whether you're looking for a full colour machine or a plain black and white machine we will provide the right equipment for your requirements. All your printing needs are provided when we become your print and document management supplier. Alongside our consultancy and supply, we will also install, and train your employees on the equipment that is deemed right for your business.
We have very low lease office photocopier machine prices and support running prices. But what really makes the difference is our experience and intelligence when it comes to digital solutions when renting copier machine. We are able to demonstrate real savings when you buy or lease from us, and we put it in a simple way so it's clear.
The price of renting a photocopier largely depends on the volume of copies required rather than the length of time the copier is needed. By calculating how many copies you need to make each month, you can determine the volume of photocopier required and the approximate rental cost of this.
The copier you choose will depend on the needs of your business, as mentioned earlier you can choose from low, medium or high volume models depending on how many copies you need to make. The price of the individual photocopier will depend on its functionality and abilities – the higher volume models tend to be able to handle over 40,000 copies per month and often come with advanced or optional features such as automatic stapling, stacking and binding.
Eco Printing
We have numerous ways to make your office print solutions significantly eco-friendly with our new eco copiers including carbon zero, up to 90% lower energy consumption, zero printing emmissions, up to 90% less consumable waste and offsetting.
Ask us now how we massively reduce your companies printing energy, CO2 waste and harmful emmissions.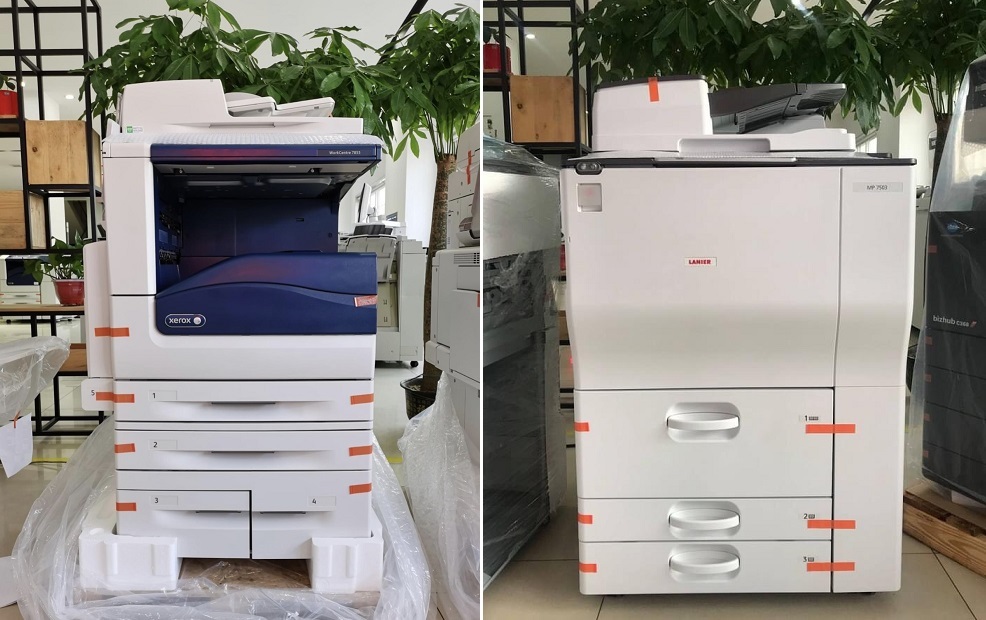 Contact Us At máy photo Quang Minh
Do you like the sound of our Office Copier Leasing offer? Would you like a free, no-obligation Quotation or Audit, or further information on your Printer Lease? If so, please Contact our friendly team today. You can call, email, or fill in our simple online form. We look forward to hearing from you and helping your company manage its print solutions.
====================================================================
Quang Minh Service Development and Investment Company Limited
Address: C15 No 8 Dinh Cong EIA, Dinh Cong Ward, Hoang Mai District, Hanoi City, Vietnam
Website: https://mayphotoquangminh.com
Phone: 0941891633
Email: mayphotoquangminh@gmail.com